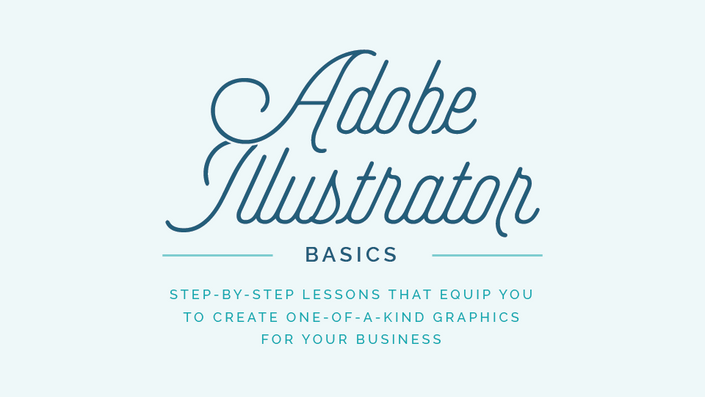 Adobe Illustrator Basics
Basic, step-by-step video lessons that equip you to create custom, one-of-a-kind graphics for your business using Adobe Illustrator
Enroll in Course
If you've been a business owner for longer than 5 minutes, you know design needs have the tendency to pop up everywhere.

You need a logo, a website, promo materials, business cards, blog graphics, pricing guides, packaging materials...
And that's just the tip of the iceberg. But how do you create them?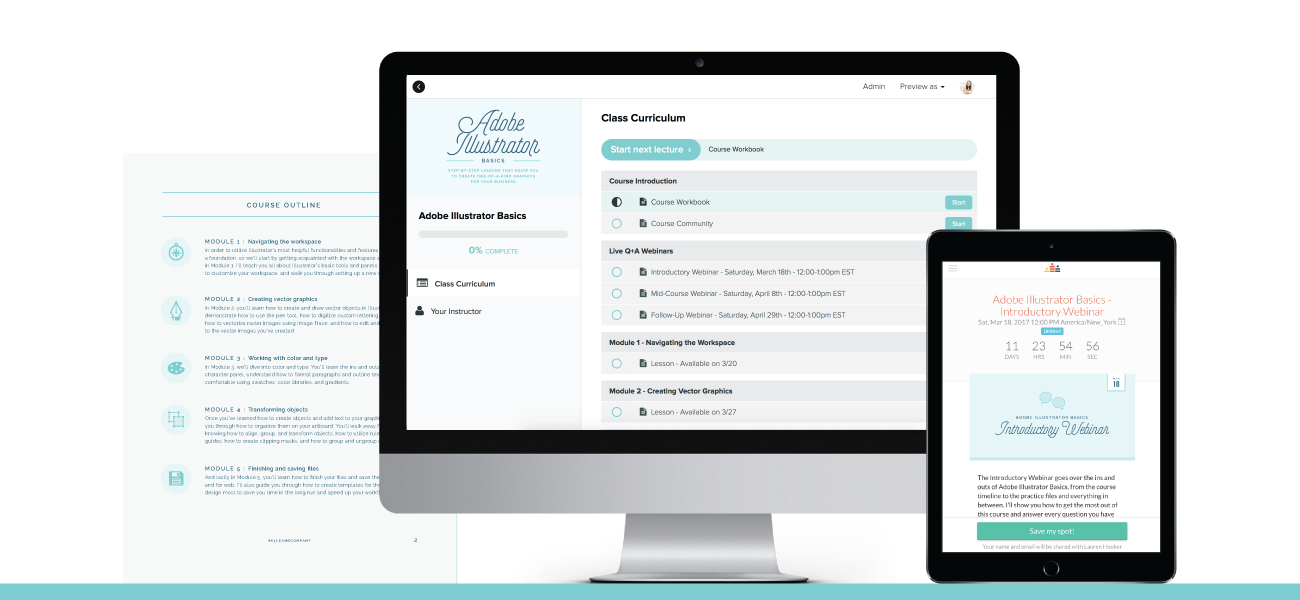 Introducing Adobe Illustrator Basics
Adobe Illustrator Basics uses video lessons and practice files to teach you how to create custom, one-of-a-kind graphics for your business using Adobe Illustrator.
I'm not going to teach you every capability of Adobe Illustrator - that would be incredibly overwhelming and time-consuming.
Instead, you'll receive simple, practical tutorials on the basic functionalities of Illustrator and create items like inspiration boards, blog graphic templates, and website buttons to help set your business apart.
The best part? You'll no longer be in a bind when a design need inevitably pops up.
Take a look at what's included:
Instructional videos with live Q+A sessions over the course of 5 weeks
Lifetime access to the recorded lessons and bonus files
A comprehensive workbook filled with checklists, guides, and cheat sheets
And practice files to help you follow along with each lesson
What's covered in the course?
Module 1 | Navigating the workspace
In order to utilize Illustrator's most helpful functionalities and features, we have to set a foundation. So we'll start by getting acquainted with the workspace and tool panels in module 1. I'll teach you all about Illustrator's basic tools and panels, show you how to customize your workspace, and walk you through setting up a new document.
Practical takeaways: Blog post graphics and custom website buttons


Module 2 | Creating vector graphics
In Module 2, you'll learn how to create and draw vector objects in Illustrator. I'll demonstrate how to use the pen tool, how to digitize custom lettering and sketches, how to vectorize raster images using Image Trace, and how to edit and make tweaks to the vector images you've created.
Practical takeaway: Custom social media icons
Module 3 | Working with color and type
In Module 3, we'll dive into color and type. You'll learn the ins and outs of the character panel, understand how to format paragraphs and outline text, and feel comfortable using swatches, color libraries, and gradients.
Practical takeaways: Custom logo and color palette
Module 4 | Transforming objects
Once you've learned how to create objects and add text to your graphics, I'll walk you through how to organize them on your dartboard. You'll walk away from Module 4 knowing how to align, group, and transform objects, how to utilize rulers, grids, and guides, how to create clipping masks, and how to group and ungroup objects.
Practical takeaway: Inspiration board
Module 5 | File finishing and saving
And lastly in Module 5, you'll learn how to finish your files and save them for print and web. I'll also guide you through how to create templates for the items you design most to save you time in the long run and speed up your workflow.
Practical takeaways: PDF workbook and promotional graphics
Class Curriculum
Course Introduction
Available in days
days after you enroll
Module 1 - Navigating the Workspace
Available in days
days after you enroll
Module 2 - Creating Vector Graphics
Available in days
days after you enroll
Why Illustrator?
Most images (like photos) are raster images, meaning they're made up of pixels. They may appear clear and smooth when they're a small size, but as you zoom in on a raster image, you can see the individual pixels, or boxes of color. This doesn't work well for objects like logos that often need to be increased in size.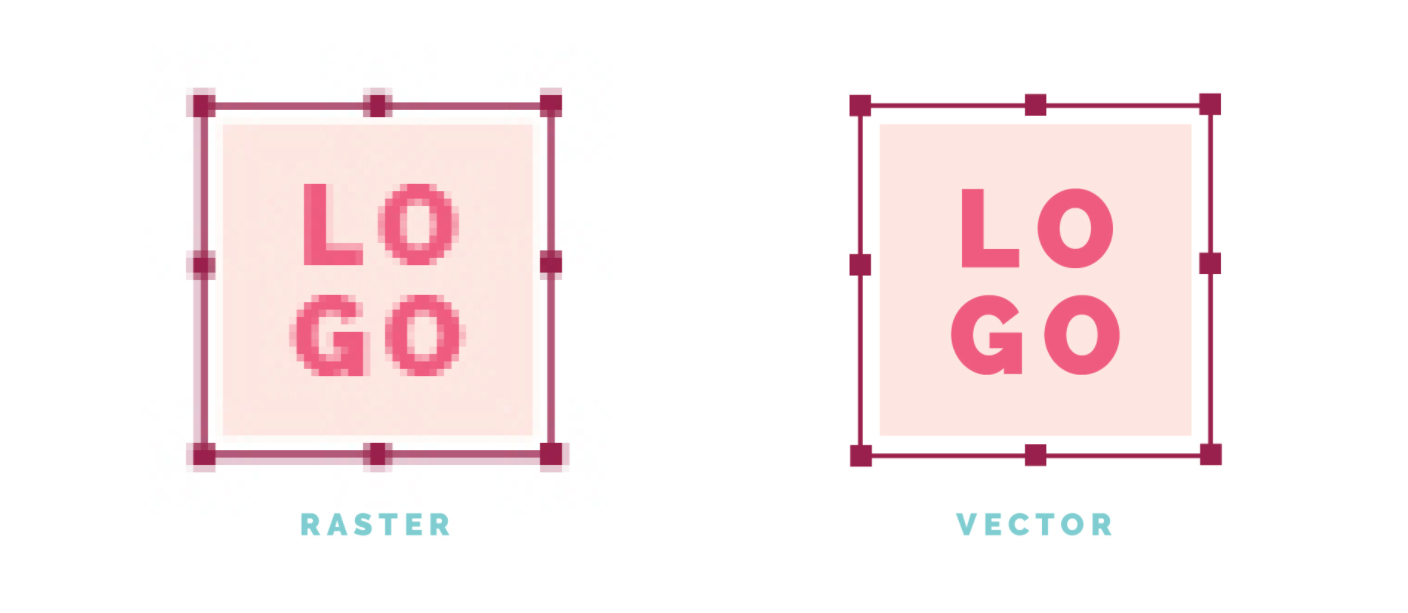 The graphics created in Adobe Illustrator, however, are vector images. Unlike raster images, they aren't made up of pixels; they're created using mathematical logarithms so they can be resized without sacrificing quality and resolution. Illustrator creates vector images and can also work with raster images, while programs like Photoshop or Canva only work with raster images.
This is extremely helpful for design items like logos, type, and graphics that need to be resized and enlarged on a regular basis.
Why you can trust me
My name is Lauren Hooker, and I'm a graphic designer, business strategist, and the founder of Elle & Company.
I've had 4 years of formal training in Adobe Illustrator and over 9 years of experience using this helpful design software.
While I use it often for client design work, Illustrator has been even more valuable for my own business.
It's the one program I use to design blog graphics, logos, icons, sidebar buttons, infographics, inspiration boards, promotional graphics, media kits, business cards, printables, stamps, presentations, packaging labels, social media cover images, and more.
I've also taught this class 4 times with outstanding turnouts. The first round sold out in less than 15 minutes!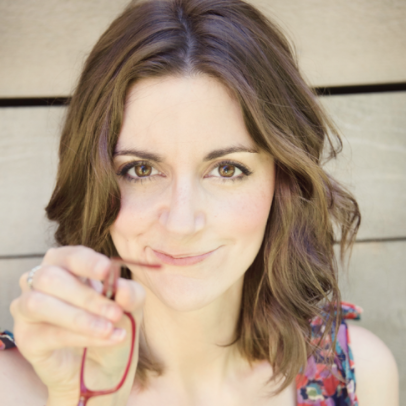 "Elle & Company's Adobe Illustrator course is a must buy! One of the best investments I've made in a course yet. Lauren makes learning easily digestible and takes the time to answer individual questions. Learning Illustrator was an actual business changer for me. Only 7 months ago I was just a photographer, but after taking this course I have been able to incorporate graphic design into my business services and increase my income enough to take my business to full time!"
Brianne Dosier, Brightly & Co.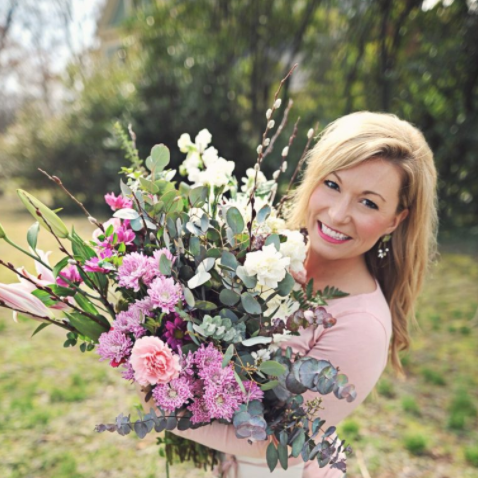 "I am so grateful that I took this course a couple years ago. Lauren's instruction made it so easy for me to pick up this program and has helped lay the foundation for me to be able to navigate through other Adobe programs that I now use daily!"
Cory Rindskopf, Bells Box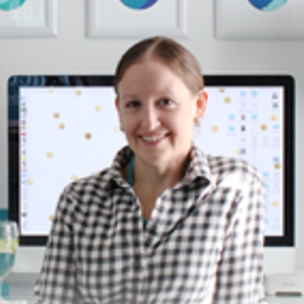 "I signed up for the very first offering of the Illustrator E-Course offered by Lauren of Elle & Company because I wanted to be able to make graphics and feature images for my blog. Before starting the course, I had been using several different work-around programs that all left me frustrated with my inability to achieve the professional look I wanted for my business. After spending just 5 Saturday mornings with Lauren learning Illustrator, I had the skills necessary to make attractive and branded images and graphics for my website, and was confident enough in my skills to start my own Printable Library full of well-designed, useful and attractive organizational resources for my readers. Lauren's course strips away the complexity of Illustrator and teaches the exact skills a creative blogger needs the most, ultimately allowing you to get right to work creating your brand and creative products quickly and efficiently. I can't recommend this course enough and excitedly look forward to other courses by Elle & Company!"
Megan Duesterhaus, The Homes I Have Made
Who is this course for?
Creative entrepreneurs - If you run a creative business, you'll run across design needs on a consistent basis. This course will equip you to create one-of-a-kind, branded graphics as those needs inevitably pop up.
Bloggers - Custom blog graphics, website updates, and media kits have the potential to make your blog seem more professional and set it apart from the millions of other blogs out there.
Self-taught designers - Learning the ins and outs of this design software will not only allow you to carry out your creative ideas; it will help you feel more confident in your design capabilities and speed up your workflow.
Artists - Whether you're a calligrapher, illustrator, hobbyist, or painter, the ability to digitize and edit your artwork through this design software will open you up to great opportunities in an increasingly digital age.
Frequently Asked Questions
When does Adobe Illustrator Basics officially begin?
There's an introductory webinar for Adobe Illustrator Basics on March 18th and the first module goes live on March 20th. Here's the full timeline: March 8 - Intro webinar at 12:00pm EST || March 20 - Module 1 available || March 27 - Module 2 available || April 3 - Module 3 available || April 8 - Mid-course webinar at 12:00pm EST || April 10 - Module 4 available || April 17 - Module 5 available || April 24 - Bonus Module available || April 29 - Follow-up webinar at 12:00pm EST
Is there a self-paced option?
I've designed this program so you can complete it in just 5 weeks, but you also have the option of going at your own pace. Review your favorite modules and pick it back up whenever you'd like.
When will Adobe Illustrator Basics be offered again?
This course will only be offered once a year. The next enrollment will take place Spring 2018.
What are the purchasing options for Adobe Illustrator?
Adobe Illustrator is available through a monthly subscription of Adobe Creative Cloud. You have the option to purchase the single app or bundle it with other Adobe programs like Photoshop, InDesign, and Lightroom, download it to your computer, and receive the newest software updates as they're made available.
Are you affiliated with Adobe? Are they paying you for this?
Nope (although if anyone from Adobe is reading this, I wouldn't say no to a collaboration...). I offer this course because I've witnessed firsthand just how helpful Illustrator is for those in the creative industry.
Adobe Illustrator seems a little overwhelming…
I hear you! Opening up Adobe Illustrator for the first time and looking at the tool panels can be totally overwhelming. Which is why I developed this course. With my 8+ years of experience using Adobe Illustrator, I'll be breaking it down for you and walking you through the tools and functionalities that will be the most helpful for your creative business. After this course, you'll no longer be intimidated or overwhelmed by Adobe Illustrator.
I don't have time to learn the ins and outs of design software!
"If you think good design is expensive, you should look at the cost of bad design." - Dr. Ralf Speth First impressions are crucial, especially for budding new businesses. If you aren't putting the time into making a positive, professional first impression through your brand and your visuals, you could be putting your business at a huge disadvantage.
Why can't I just download Illustrator and watch instructional videos on YouTube?
You can definitely do that! But one of the biggest advantages of purchasing this course is that all of the information is compiled for you in an easy, step-by-step format. And chances are if you're brand new to Illustrator, you don't even know what to search for on YouTube or where to start. I've taken all the research and organization out of the equation for you; all you have to do is press play.
Can I get a refund if I don't like the course?
As with any new skill, it takes time and practice to feel comfortable using Adobe Illustrator. There's no such thing as a "pen-tool natural" - you have to put in the work. If you want to learn the basics and fundamentals of Adobe Illustrator, this course is perfect for you. However, if you aren't completely satisfied with the program after the first 14 days, I'll give you your money back, no questions asked.
How long do I have access to the course?
How does lifetime access sound? After enrolling, you have unlimited access to this course for as long as you like - across any and all devices you own.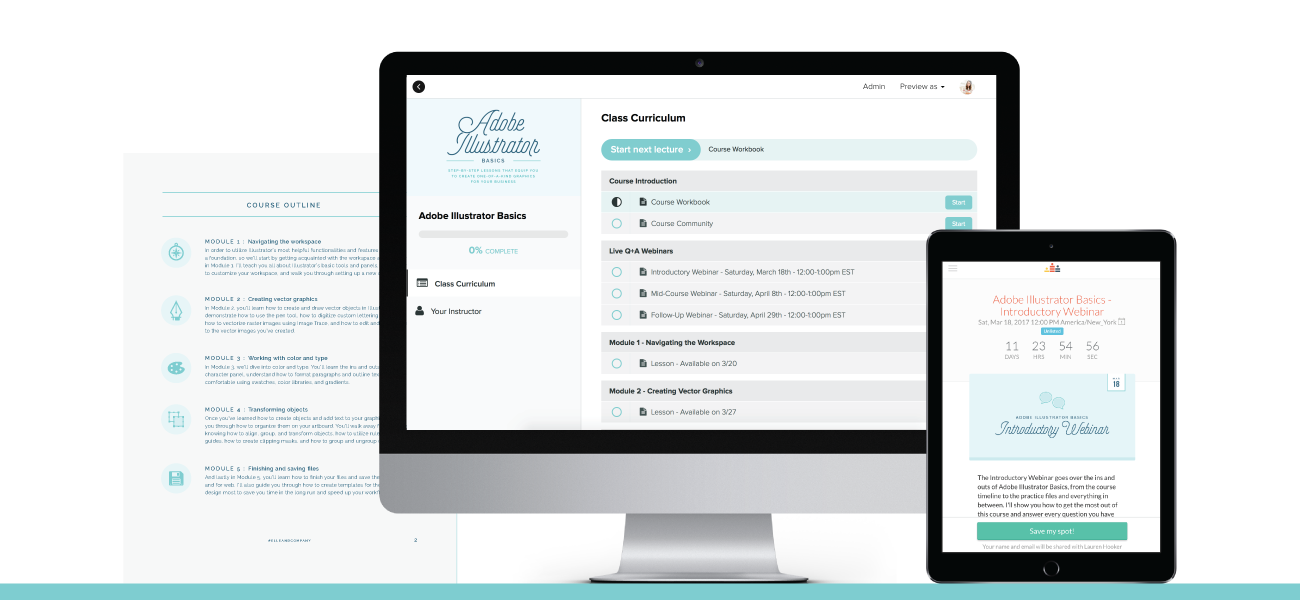 If you want to create custom, one-of-a-kind graphics for your business using Adobe Illustrator, join me for this practical, hands-on course.